Recycling and rubbish collections guide
Recycling collections
The information provided on these pages are designed to assist residents with sorting your rubbish and recycling into the correct containers for collection.
Only put listed items for each bin type in the correct recycling and rubbish bins. If bins are contaminated with incorrect items they will not be collected by our crews.
Paper and card recycling (black bin with blue lid / clear sacks)
Your paper and card recycling is collected every two weeks
The corresponding bins are:
Paper and card (black bin with blue lid)
Clear sacks
The items you can recycle include
Newspapers and Magazines
Envelopes and Junk mail
Catalogues
Paper and Printed paper
Card and cardboard (please flatten)
Greeting cards
Kitchen roll and toilet roll tubes (no tissue paper)
Egg boxes
Shredded paper (small amounts)
If you have large bits of cardboard which will not fit in the bin, you can place this on top or by the side of the bin.
---
Dry mixed recycling (green box or bin)
Your dry mixed recycling containers or sacks are collected every two weeks.
The corresponding bins are:
Dry mixed recycling (green box or bin)
Blue sacks
Items that can go in your containers are listed below;
Plastic bottles including drinks bottles; cosmetics bottles; cleaning product or bleach bottles (please remove any spray or pump attachments if possible - normal plastic lids are accepted)
Plastic food trays including yoghurt pots please (remove any film lids or coverings)
Plastic tubs (ice cream, butter)
Cartons for liquid foods and drinks
Glass bottles and Jars
Metal tins for canned food and drinks
Aerosol containers
Clean metal foil wrap or food trays or lids
In order to make the most of the space in your container or sack, stack similar items such as yogurt pots and egg boxes and squash plastic bottles. Please rinse items before you put them in your container or sack.
---
Food waste recycling
Your food waste recycling is collected every week.
The corresponding bins are:
Indoor food caddie (smaller brown bin)
Outdoor food bin (brown bin)
You can use the smaller brown kitchen caddy inside your home to store any food waste, before emptying into your outside food waste bin.
Many people prefer to line their caddy with a compostable liner but this is not essential. Compostable liners can be found in most supermarkets or you can purchase some from our libraries. When purchasing liners, please remember to look out for the compostable logo, pictured on the right. Alternatively you can place food in the caddies loose or wrapped in paper or newspaper.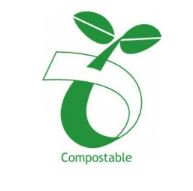 To keep your caddy fresh, empty it into your outdoor food waste bin regularly and rinse it out each time. Make sure that your outdoor food waste bin is locked to keep pests out. Food waste should not go into your non-recyclable rubbish bin.
Items that can go into your food bin:
Cooked and raw food
Mouldy food
Meat and fish including bones
Tea bags and coffee grounds
Pet food and cut flowers
Did you know? - The average family throws away nearly £600 worth of food a year. Visit the Love Food Hate Waste website for information on how to save food and money. A lot of food waste can also be composted in your garden. We provide compost bins at a low rate and advice on how to compost at home through getcomposting.com.
Environment and waste
Contact us about environment and waste issues.
Address: