Cocks Crescent new public square planning application
Kingston Council has submitted a planning application to build a new town square, pocket park and pedestrian link in New Malden, as part of the first phase of the Cocks Crescent development.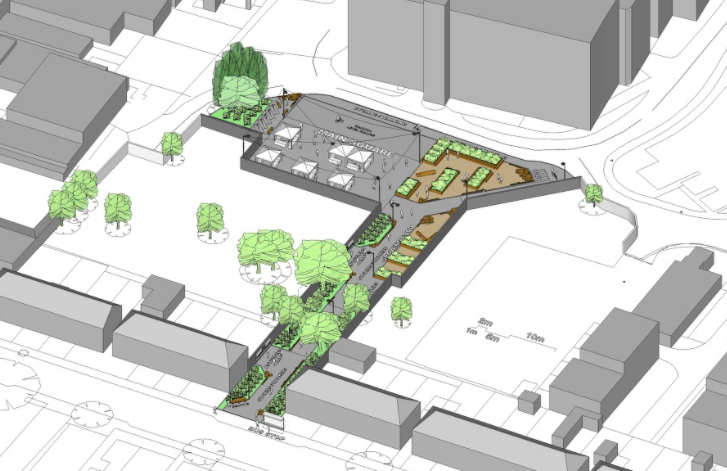 3D visual of proposed scheme.
The proposed works would take place in part on the former Adult Resource Centre site, and will respond to feedback received from local residents during co-design consultation events in 2019. If approved, work will begin in spring 2021 and is expected to be completed in the summer.
The proposed works include:
A new public square and pedestrian/cycle link, connecting the site to Burlington Road.
A new, landscaped pocket park on Burlington Road, transforming a vacant plot of land into a small green space.
Resurfacing of the former Adult Resource Centre site, to provide a level, more accessible space to enable the centre to be reopened to the public.
The introduction of planters and areas of bark chippings.
New street lighting and furniture (including benches, bins and cycle stands).
We are currently working with residents to help plan a series of community led activities across the Cocks Crescent site in advance of construction work starting on the main development in a few years' time. Upgrading this space will allow for a wider range of community projects and events to be held here in the future.
Residents are invited to submit their comments on the planning proposal.
If you have any questions about the application please email the team at: [email protected].
About the Cocks Crescent Development
The current Cocks Crescent site in New Malden includes a leisure centre, Blagdon Road open space and surface car parking. There are also a number of vacant or underused sites which could be put to better use. Together, these sites, including the vacant and demolished buildings, offer an opportunity to improve current services and the surrounding area, as well as provide new homes and better community facilities. In 2019, the council worked with the local community to create a shared vision for the redevelopment of the Cocks Crescent site. For further information on the project please visit the Cocks Crescent webpage.