A broken toaster, calculator and teddy bear take a trip to the library…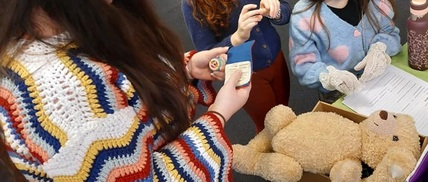 A community Repair Café has opened at Kingston Library, helping residents save money, reduce waste and tackle climate change.
The new Repair Café, run by local community group Transition Town Kingston, is part of an international network that helps people repair items so that they can be saved from the bin.
Hosted on the first Saturday of each month in Kingston Library's community room, residents are invited to bring along broken items and fix them with the help of volunteer repairers. The space has been provided as part of the council's commitment to helping communities tackle climate change.
At the launch event volunteer repairers helped fix a range of items including lamps, a phone, a toaster and an antique teddy bear, giving them all a new lease of life. By repairing instead of replacing the items, 11 kg of waste was avoided and roughly 102 kg of carbon dioxide (CO2) - the same amount generated from watching 177 hours of television.
Each year hundreds of thousands of items are thrown away across the UK instead of being repaired or recycled. Electricals alone account for 155,000 tonnes of waste, which if repaired or recycled would cut as much CO2 as taking 1.3 million cars off the road.
Transition Town Kingston Chair and co-organiser of the Repair Cafe, Marilyn Mason, commented:
"We are delighted that our first Repair Cafe went so well, thanks to many people and organisations - our expert and versatile volunteer fixers, Kingston Library for their warm welcome, John Lewis Kingston for the seed-funding that enabled this start, Save the World Club for the loan of their Portable Appliance Tester (we are now saving up for our own), Twickenham Repair Café for their excellent advice, and Transition Town Kingston for support from the very beginning."
Councillor Ian Manders, Portfolio Holder for Climate Action and Sustainable Transport said:
"Kingston's residents are among the best recyclers in London, and we want to support projects that can empower residents to reuse things that would otherwise be thrown away.

"Not only will this help to tackle climate change, it'll help save money which is particularly important in the cost of living crisis."
Projects like the Repair Café are also a great way to get involved with your local community - Transition Town Kingston is looking for more volunteers to help residents fix a variety of items. If you've got the time and the skills, get in touch with them today.
Full information can be found on Transition Town Kingston's website or by visiting the Kingston Repair Network page on the Restart website.