Affordable e-bikes launched in Kingston on World Car Free Day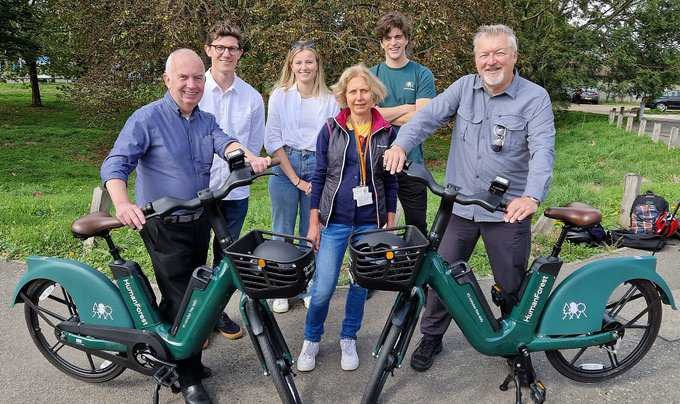 The Royal Borough of Kingston and the London Borough of Sutton are partnering with e-bike industry leaders HumanForest, bringing 120 electric bikes to the boroughs' streets.
Travelling in Kingston and Sutton just got cleaner and easier with the launch of a new dockless e-bike scheme. Both Kingston and Sutton have made sure the bikes are accessible for everyone: each rider gets 10 minutes free hire each day and, unlike other similar schemes, there are no unlocking charges. This means a resident could cycle from Kingston to Surbiton, or from Sutton station to Carshalton, totally free of charge as long as they leave the bike in the right place at the end of their ride.
After the 10 free minutes, cycling costs just 17p per minute and users can find, hire and return a bike through the scheme's easy to use app. Car Free Day is a great opportunity to try out simple switches in the way we travel which is why we are launching the scheme today; the e-bikes are a healthy, affordable alternative to the car, whether it's for a trip to the shops or a meet-up with friends. The scheme is rolling out in both boroughs at the same time, meaning residents can pick up a bike in one borough and leave it in the other.
Councillor Ian Manders, Kingston Council Portfolio Holder for Environment & Sustainable Transport, said:
"Kingston Council is promoting 'active' travel to help improve local peoples' health and ensure a greener future. Cooperating with Human Forest to promote their e-bikes supports these objectives".

"The launch of the new e-bike hire scheme in Kingston, with Sutton, offers local sustainable travel to more residents. These e-bikes should encourage people who don't want to 'sweat it out' on an ordinary 'push' bike, but still want the door-to-door convenience of cycling and green travel.

"As you pay per journey - after your free 10 minutes - you avoid the considerable cost of buying and maintaining your own e-bike. In this cost of living crisis, this shows that being green can also mean being lean".
Caroline Seton, Head of Growth & Co-Founder at HumanForest, said:
"We're delighted to be expanding into Kingston & Sutton, bringing HumanForest's sustainable and affordable eBikes to even more of London's residents. Accessibility and inclusivity will be at the forefront of the partnership, working with local groups to encourage and support uptake from all areas of the community.

Kingston and Sutton are both being proactive in contributing to a cleaner, greener London and HumanForest are pleased to be supporting them in achieving their sustainability goals. We're looking forward to working with both Councils in implementing a successful and collaborative partnership."

We are committed to making Sutton one of London's greenest boroughs and as part of that, we are working hard to make it easy for our residents to travel safely, actively and healthily. Find out more about how we are doing this in our Sustainable Transport Strategy.
You can find out more about hiring e-bikes in Kingston, as well as other ways to buy, hire or loan a bike, on the Kingston Council website.