Party Animal by Alex Davies MRSS, winner of 2021 Kingston Sculpture Trail, permanently installed in Kingston Market Place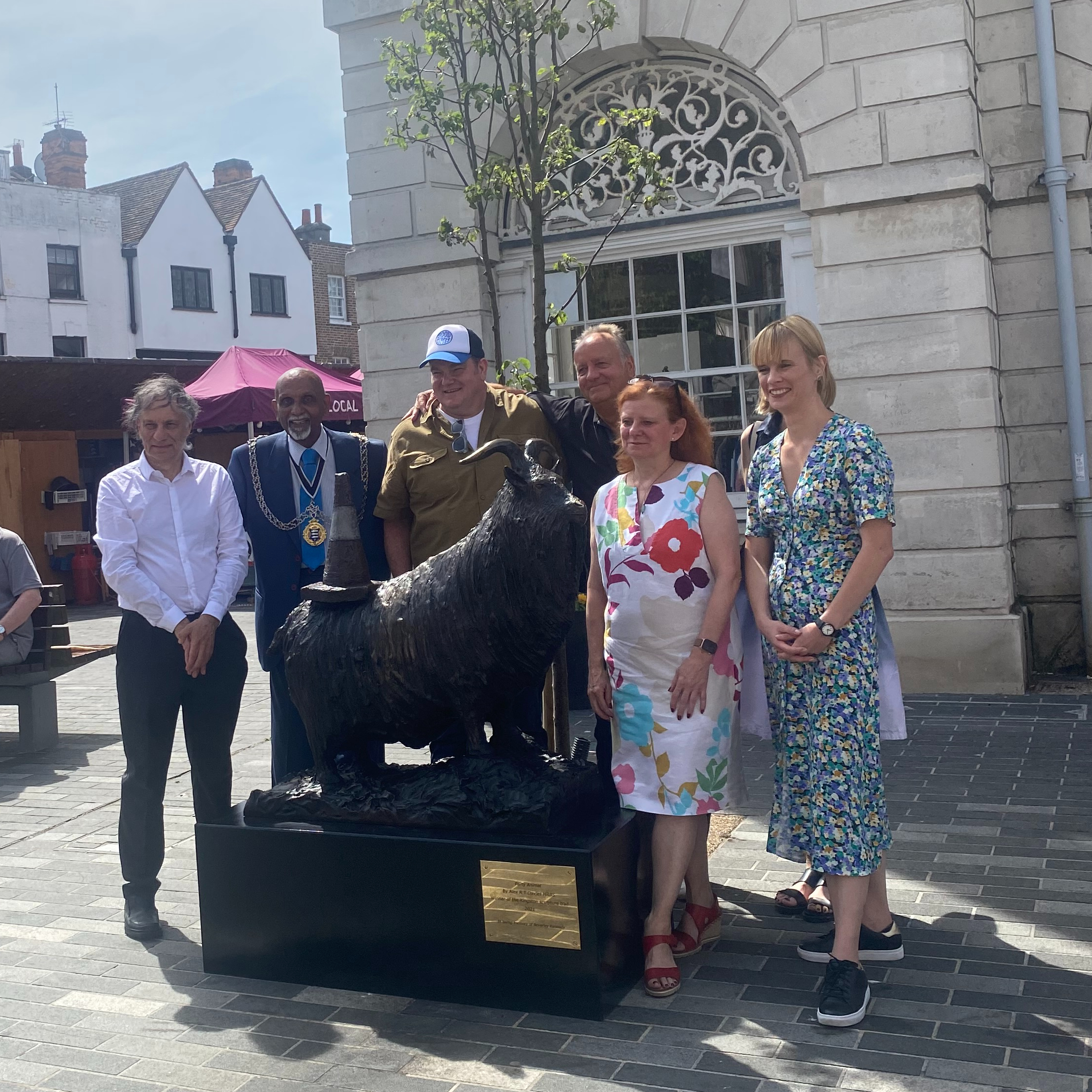 A new piece of public artwork for Kingston upon Thames has been permanently installed in the Ancient Market Place; a lasting legacy of the Kingston Sculpture Trail which ran last year.
Party Animal by Alex Davies MRSS was officially unveiled with a small ceremony on Thursday 16 June to celebrate its arrival.
Davies is a locally-based sculptor who runs a fine art foundry, Milwyn Casting Ltd, in West Molesey. His sculpture depicts a bronze goat which stands proudly with a traffic cone on its back. The viewer is invited to sit on the goat's back, and rub its shiny golden heart-shaped nose.
Party Animal was one of seven sculptures that made up the trail, a project organised through a partnership of Kingston First, Kingston Council, Canbury Community Trust and Kingston University which ran from August to October 2021. Local residents and visitors were asked to vote for their favourite and almost 1700 people responded to the voting survey, with Davies' sculpture winning 51% of the vote.
Alex Davies MRSS, artist and creator of Party Animal said:
"It's been a great experience being involved in the Kingston Sculpture Trail, made all the better by the positive feedback I have had and of course winning the vote. It is a real honour to have a sculpture chosen to be permanently sited in Kingston, a town that I have visited many times growing up in Surrey, having worked there as a teenager, to now having my own business and workshop so close."
Kirsten Henly, Chief Executive of Kingston First said:
"Public artwork adds richness and individuality to town centres, and is central to our shared vision for Kingston's streets and spaces. We're thrilled to see Party Animal permanently installed as a lasting legacy to our first-ever Kingston Sculpture Trail, strengthening the fantastic local heritage, arts and culture offer in Kingston. We hope that lots of people will enjoy this exciting new addition to the town centre."
David Mach RA, artist and creator of iconic Kingston sculpture 'Out of Order' (1989) said:
"This is Kingston's version of the boar statue near the Uffizi Gallery in Florence. The nose of "Porcellino" is golden from the number of tourists rubbing it for luck; the cone on the back of Alex's goat is going to be just as shiny. It's going to be a very popular piece."
Councillor Peter Herlinger, Portfolio Holder for Culture at Kingston Council said:
"Thank you to everyone who took part and voted for the amazing sculptures, and to the artists behind them. We want to diversify the offering in our town centres and high streets so people visit them for the culture, leisure and entertainment as well as going shopping. The Kingston Sculpture Trail reinforces the council's commitment to supporting arts and culture as an integral part of our wider economic recovery, and we are delighted that Party Animal will be around for visitors and residents to enjoy."
Mandy Ure, Dean at Kingston School of Art said:
"Alex R T Davies' Party Animal is a fantastic addition to the landscape of Kingston and a sculpture the local community and visitors can enjoy for years to come. It's been a real pleasure working in partnership with Kingston First, the Royal Borough of Kingston and community groups, and for my colleagues from Kingston School of Art to be able to contribute. Our students have also enjoyed opportunities to take their work out into public settings in previous projects and I hope there is further collaboration in the future."