Work to refurbish Queen Mary Hall is confirmed, offering short and longer-term improvements — as part of the Cambridge Road Estate regeneration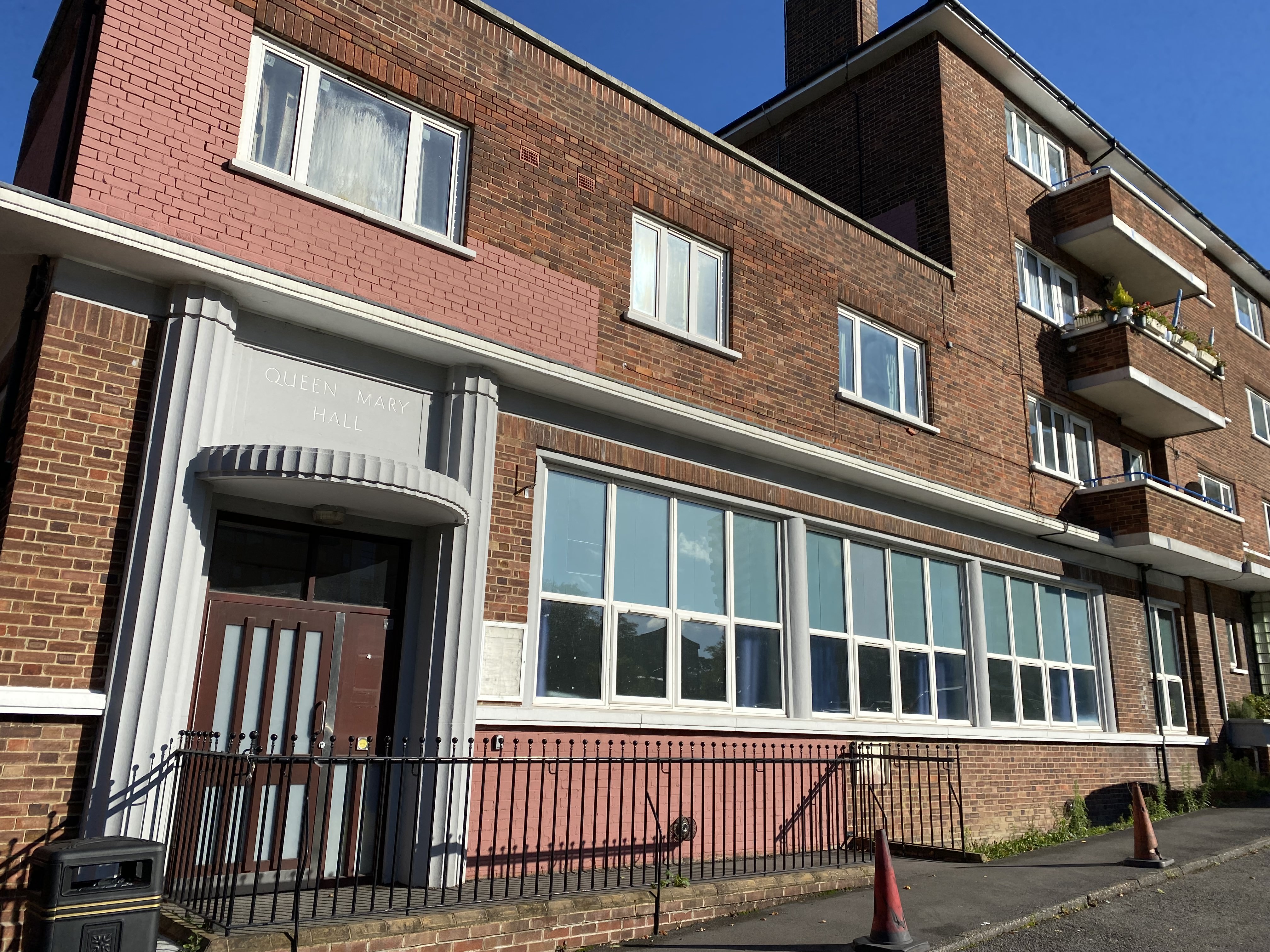 Kingston Council and joint venture development partner, Countryside, announce work to refurbish Queen Mary Hall in Norbiton.
In preparation for the regeneration of the Cambridge Road Estate, the joint venture partners have announced the refurbishment of Queen Mary Hall. This comes after engagement with the community and extensive site assessments to identify a site for a temporary community centre to ensure facilities remain available in the neighbourhood during the forthcoming regeneration of the Cambridge Road Estate — where a new community centre will be built to replace Piper Hall in phase 1 of the regeneration programme.
Queen Mary Hall is positioned directly opposite the Cambridge Road Estate, on a neighbouring estate, Cambridge Gardens. Its close proximity was one of several reasons for its selection. Refurbishing Queen Mary Hall presents an opportunity to make lasting improvements to the site and increase the offer to the wider community. Not only does it provide a community hall that is an improvement on facilities in the area, it will also allow similar pre-COVID community activities to continue in a local venue.
This refurbishment is an investment in improvements to a local community facility that can be used by residents in both the short and long term.
Executive Director of Place, Matthew Essex, Kingston Council, said:
"I am proud of Kingston Council's vision for heritage-led regeneration, part of our 'Transform Kingston' programme.


"From the outset, we wanted the regeneration of the Cambridge Road Estate to benefit the community with modern homes and facilities. The opportunity to refurbish Queen Mary Hall on Cambridge Gardens as part of this programme is great news for the area; delivering on the commitments of Kingston Council and Countryside to ensuring that high-quality community facilities remain available throughout the works as part of a wider programme delivering much needed new affordable homes and creating new jobs and apprenticeship opportunities in the borough.


"Minimising any disruption that regeneration can cause is one of our top priorities. That is why we promised to ensure that community facilities would not be lost in the neighbourhood during the programme of regeneration.


"We have worked with residents and hirers of Queen Mary Hall to understand what they would like to use the hall for and how we can make it more accessible, usable and welcoming. Now, we look forward to continuing working together to ensure improvements to the venue are lasting."
Notes to editors
The joint venture partnership received outline planning approval for the mixed-use regeneration masterplan for the regeneration of the Cambridge Road Estate, comprising 2,170 homes in total, in a mix of flats, maisonettes and houses of various sizes, with 45% affordable (on a habitable room basis). Of these 941 affordable homes, 767 homes will be for social rent, 20 for shared ownership and 154 for intermediate tenure. The new neighbourhood will include a minimum of an additional 114 council homes.
This planning approval follows a successful ballot of residents of the Cambridge Road Estate, who in March 2020 voted overwhelmingly in favour of the plans to regenerate their neighbourhood.
A detailed planning application was approved for Phase 1 of the regeneration, which will comprise 452 homes in total, including 150 for social rent and 15 for shared ownership. 1,250 sq m of community space, 290 sq m of office space and 395 sq m of retail/commercial space will also be delivered, in addition to new public open spaces. With planning approval now granted, construction is expected to begin in summer 2022.
More information about Kingston Council's 'Transform Kingston' programme is available on the Council website.