Kingston Council White Ribbon ambassadors proudly support #TheGoal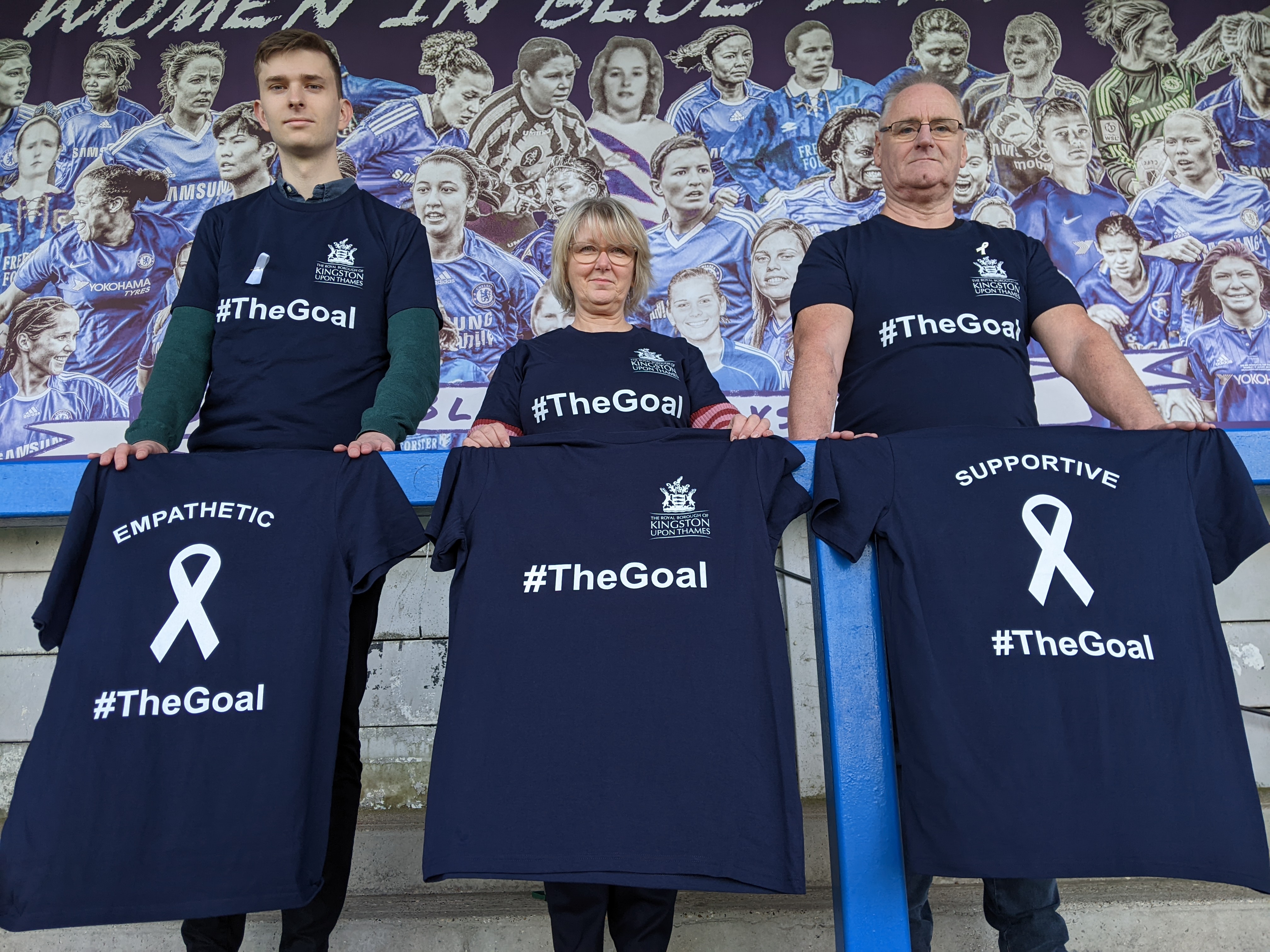 As we fast approach a year since becoming a White Ribbon accredited organisation, Kingston Council pledges its ongoing support for this year's White Ribbon campaign.
White Ribbon Day is a widely recognised global movement organised by White Ribbon UK, the leading charity engaging with men and boys to end violence against women and girls (VAWG).
White Ribbon Day 2022 is on 25 November, and this year's White Ribbon campaign runs until 10 December. The day also coincides with the beginning of 16 days of Activism - a global campaign to raise awareness around violence against women and girls.
The White Ribbon campaign aims to highlight the extent of domestic abuse and calls on men, women, and young people to take action on this very important issue. It is primarily aimed at men and boys and encourages them to pledge that they will never commit, condone or remain silent about the abuse of women.
This year, White Ribbon Day falls within the same week as the launch of the FIFA men's World Cup and is marked with the the launch of White Ribbon UK's campaign #TheGoal. Running throughout the tournament, when cases of domestic abuse typically see an increase, it aims to bring men and boys together to think about how they can make a positive difference in achieving equality and safety for women and girls.
Kingston Councillor Alison Holt, Member Sponsor for the Women's (+A) Network, said:
"We continue with our pledge to raise awareness and support women in matters of domestic abuse, and in addressing the broader issues of safety and gender equality. This theme is integral to our values as a council, and I'm pleased to say that we have made good progress in our first year as a White Ribbon accredited organisation.

"We are committed to tackling this issue here in Kingston. We are once again asking men, women, and young people to spread the message by wearing a white ribbon to demonstrate that they believe violence against women and girls is unacceptable - and will not be tolerated. I would encourage everyone to wear the ribbon and make the White Ribbon Promise - to never use, excuse, or remain silent about domestic violence."
Since becoming White Ribbon accredited, the council has carried out a year-long programme of work to address the safety of women and girls in the borough. This included a borough-wide survey around the safety of women and girls in public spaces. The survey results were published online.
There has been ongoing work this year to keep Kingston one of the safest boroughs in London. This has included:
International Women's Day theme around women's safety and awareness raising of our local support services
Community Bystander training to members of the public to identify ways to safely intervene and support those experiencing VAWG
Regular training to nighttime economy businesses around safeguarding and tackling Violence Against Women and Girls
A Walk and Talk session with women and girls in collaboration with the Police to better understand women's experiences in public spaces
The launch of the Kingston survivors forum to ensure that the survivor's voice is incorporated into our local strategy and work
The launch of a language Guidance document for professionals to ensure there is no tolerance for victim-blaming language in Kingston
Ongoing preventative work with young people through collaborative work with the Kingston and Richmond Youth Council
Our year-long programme also resulted in the council being awarded government funding to continue making our streets even safer for women and girls. A cross-borough partnership led by Kingston Council has received £200,000 from the Home Office's Safer Streets funding initiative to continue its innovative work to tackle violence against women and girls in South West London.
Anthea Sully, Chief Executive of White Ribbon UK shared:
"This year, as we see the launch of the FIFA men's World Cup, there is never a better time for us to focus on the good that can come from unifying and supporting one common cause."
#TheGoal highlights eleven traits that men and boys can demonstrate and nurture, each trait representing a player in a football team. It calls on the need to shift expectations that violent and abusive behaviour and attitudes are normal and cannot be changed. All men and boys can commit to equality and safety for women and girls to live the lives they want to lead without fear of violence. This is always #TheGoal.
Everyone can show their commitment now by making the White Ribbon Promise to never use, excuse, or remain silent about men's violence against women. For more information, visit whiteribbon.org.uk/promise.
Join us at an event
We have some upcoming events and activities that we will be supporting under the White Ribbon Umbrella.
Male Accountability Survey
As part of the safer streets and white ribbon initiatives, we want to hear from those who identify as male around the issue of violence against and women and girls. Have your say, help us gain invaluable insight into this really important issue - and be a part of the solution to tackle violence against women and girls.
Click here to complete our survey before November 30… #SaferStreets
White Ribbon Day
Date: 25th November 2022 11am - 2pm
Venue: Kingston University TownHouse Courtyard
A Stall at Kingston University Townhouse courtyard offers the chance to meet our council and university student ambassadors. Hear about the work being done to keep women and girls safe and learn how to become an ambassador or champion yourself.
Community Bystander Training
Date: Wednesday, 7th December 1:30 - 3:30pm
Venue: Online training
How can you support? Sign-Up!
Active bystandership is a skill and one that can be trained to help people become active bystanders, better friends, colleagues, and neighbours.
By the end of this highly interactive online workshop participants will:
Define the term violence in a way that supports prevention
Better understand both what prevents and motivates bystander action
Discuss a range of safe options that make up a bystander toolkit.
Practise their responses to a challenging situation.
We all have the potential to make a difference in the life of another. This training simply aims to equip you with knowledge, confidence, and a set of useable options to make that difference.
Kingston Safe Zone
Date: Every Friday and Saturday Night 10:30 - 1am (ongoing)
Venue: Outside Kingston Train Station
As part of the safer streets initiative, Kingston Street Pastors, the council and the police collaborated to create a safe zone outside the train station on a Friday and Saturday night. The Safe Zone provides a safe space for women and girls, or anyone who is feeling vulnerable in the town centre. Pop along for a chat, to grab a drink or to charge your phone while you wait for a bus or taxi.