Conservation of Coronation Stone marks the Kingston's unique royal heritage ahead of Queen's Platinum Jubilee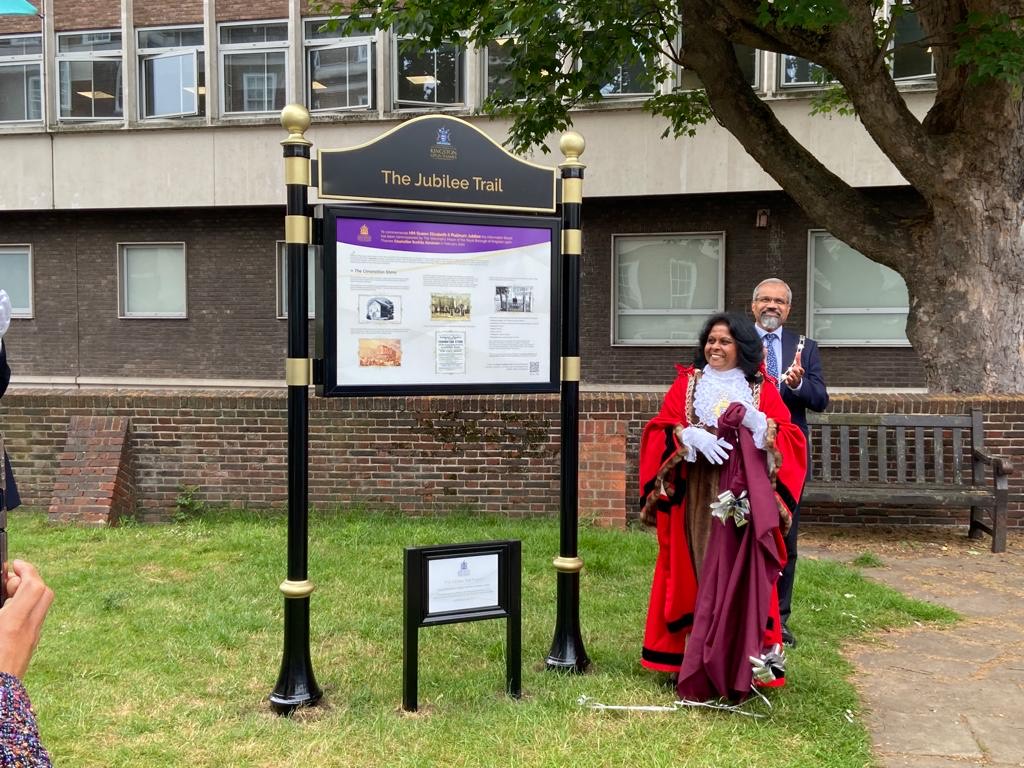 Kingston's unique place in English history is being celebrated with the unveiling of the newly-restored Coronation Stone and visitor information board in the heart of the town centre.
The Grade I listed stone, said to be the site of the coronation of 7 Anglo-Saxon kings, was commissioned to be refurbished by the outgoing Mayor of Kingston Councillor Sushila Abraham as part of the borough's commemoration of the Queen's Platinum Jubilee. At a ceremony on 23 May the Mayor unveiled a new visitor information board installed near the Coronation Stone. The board together with a new booklet explain the historical significance of the stone and the royal borough.
Cllr Abraham said:
"Kingston is the first Royal Borough in England and we must all be proud of our rich heritage. I am delighted to be able to present this important piece of history back to our communities.
"I look forward to seeing our communities come together to celebrate Her Majesty The Queen's Platinum Jubilee, with our restored Coronation Stone at the heart of Kingston's celebrations."
A walking trail named Jubilee Trail, which encourages people to visit a number of important pieces of Kingston's history across the borough, was also launched as part of the event. More information is available at www.kingstonheritage.org.uk/coronationstonejubilee.
There are many other projects to see at Kingston's Museum and History Centre, including '70 Years of Shopping', an exhibition of Brill Collection artworks, commemorating the last 70 years of shopping in Kingston upon Thames. To find out more about current and upcoming events and exhibitions, visit www.kingstonheritage.org.uk. Residents can also contribute to the borough's history by pinning their own stories, photographs, places or events on our Our 100 Histories map.
Celebrating The Queen's Platinum Jubilee
We are looking forward to joining together with our communities to celebrate Her Majesty The Queen's Platinum Jubilee. Are you having a street party or taking part in any local Jubilee events? We would love to see and share them. Tag us in your photos on Instagram, Twitter or Facebook.
For more information on our exciting events and activities, and much more, visit our Jubilee homepage.