Planning approval for 2,170-home regeneration of Kingston's Cambridge Road Estate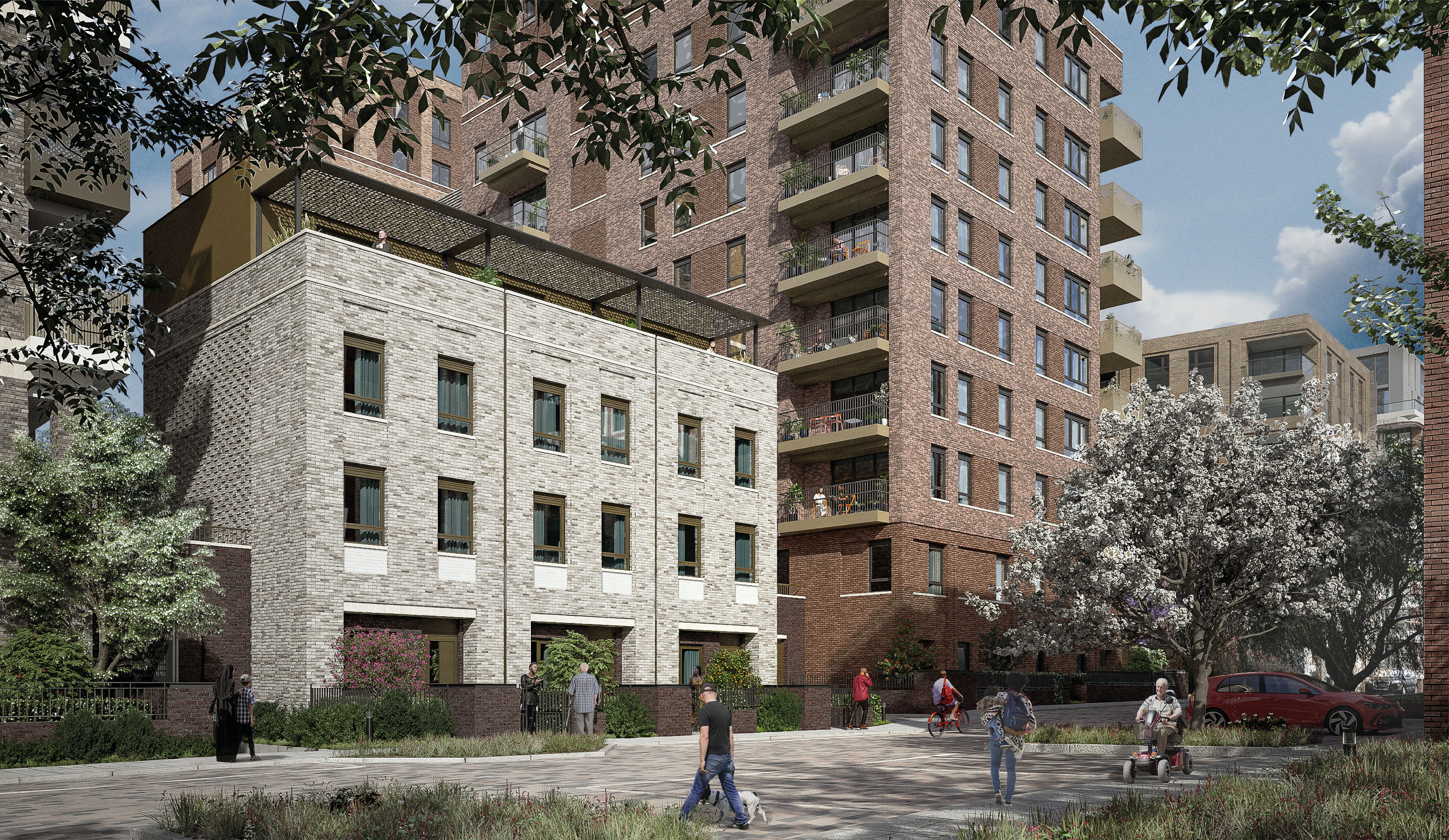 Kingston Council and development partner, Countryside, have received planning approval for their regeneration of the Cambridge Road Estate in Kingston.
The joint venture partnership has received outline planning approval for the mixed-use regeneration masterplan, comprising 2,170 homes in total, in a mix of flats, maisonettes and houses of various sizes, with 45% affordable (on a habitable room basis). Of these 941 affordable homes, 767 homes will be for social rent, 20 for shared ownership and 154 for intermediate tenure. The new neighbourhood will include a minimum of an additional 114 council homes.
This planning approval follows a successful ballot of residents of the Cambridge Road Estate, who in March 2020 voted overwhelmingly in favour of the plans to regenerate their neighbourhood.
A detailed planning application has also been approved for Phase 1 of the regeneration, which will comprise 452 homes in total, including 150 for social rent and 15 for shared ownership. 1,250 sq m of community space, 290 sq m of office space and 395 sq m of retail/commercial space will also be delivered, in addition to new public open spaces. With planning approval now granted, construction is expected to begin in summer 2022.
Cllr Emily Davey, Portfolio Holder for Housing, Kingston Council, said:
"On behalf of Kingston Council, I am delighted that the designs for the redevelopment of the Cambridge Road Estate have been approved. The plans were drawn up with residents who are at the heart of this development. In last year's ballot, on an 86% turnout, 73% of the residents said they wanted the estate rebuilt. Now we can put the residents' call for change into action.


"This project will deliver a boost for Kingston. It puts us on the path to delivering on our priorities to tackle climate change and increase the number of affordable homes, new jobs and apprenticeship opportunities in the borough.


"Residents voted for safer, warmer, greener homes and that is what we can now deliver. We are looking forward to continuing working together with residents as we deliver on these ambitions."
Daniel King, Managing Director, West London & Thames Valley, Countryside, commented:
"Following the widespread support for our Cambridge Road Estate regeneration in the residents' ballot, we are proud that our masterplan has been approved. We have put the community at the heart of these plans and so we are truly excited to begin delivering this vision.


"The regeneration of the Cambridge Road Estate is vitally important for local residents and the area as a whole, and so we are committed to working in partnership with the community and Kingston Council to deliver the regeneration for the benefit of existing residents and the wider community."
On 21 December, Kingston's Planning Committee resolved to grant planning permission for the regeneration of the Cambridge Road Estate.
Media enquiries
Kingston Council Press Office - email: press.enquiries@kingston.gov.uk or call: 07712 402 264
Countryside (Laurence Hill/Ella Palmer) - call: 020 3757 6890 or email: countryside@secnewgate.co.uk
Notes to editors
About Kingston Council
The Royal Borough of Kingston upon Thames is one of only four royal boroughs. It is located in South West London on the banks of the River Thames and is just 12 miles from central London.
Kingston is a vibrant and diverse borough, with a long history and strong cultural and community heritage. It is set to be one of the fastest-growing areas of London and the council has pledged to build sustainable homes that are affordable so people can live and work in the borough.
Kingston Council is committed to putting the needs of its residents first and it has strengthened its approach to providing new homes and developments by placing the community at the heart of the process, to ensure all new infrastructure benefits the communities it serves.
About Countryside Partnerships
Countryside Partnerships is a leading mixed-tenure developer, creating places where people love to live, with sustainable communities built to last. In March 2021 it was again awarded the 5 Star Rating by the Home Builders Federation following the latest home building industry's Customer Satisfaction Survey.
With over 40 years track record of collaborative working with partners in public and private sectors, Countryside delivers mixed tenure developments, including affordable homes, homes for the institutional private rental sector and homes for private sale. Operating across London, the North, the Midlands, the South West and the Home Counties, Countryside targets 60% of its developments to be on brownfield land with a mix of public and private landowners. Countryside is dedicated to increasing its use of Modern Methods of Construction, with a target of 50% of all homes to be built using our in-house manufacturing facilities by 2025.
Place-making is at the heart of everything we do, designing places people love and helping to build successful communities. We are committed to high-quality design, construction and management, creating a positive legacy for future generations.
For more information see www.countrysideproperties.com or follow @CountrysideProp on Twitter.