Three more playgrounds transformed in Chessington and Kingston Town
Children in Chessington and Kingston Town are set to enjoy three fantastic play areas as more parks are improved through Kingston Council's Community Parks programme.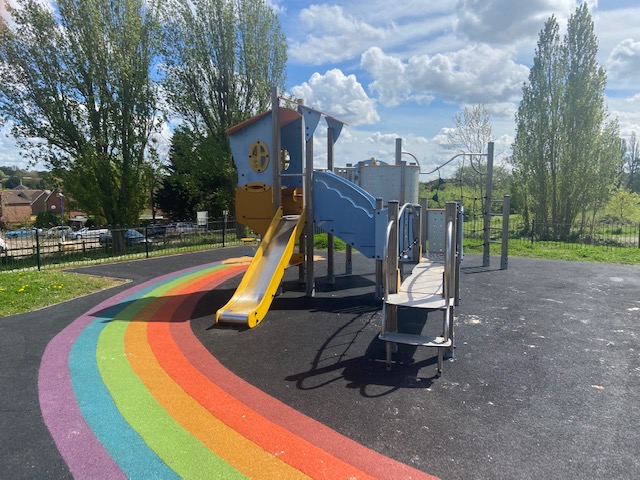 The council is committed to protecting and enhancing its green spaces and through the scheme is investing £1.3 million transforming and revitalising playgrounds across the borough. This month we unveiled new play areas in Athelstan Recreation Ground, Sir Francis Barker Recreation Ground and RAF Chessington playground.
With the help of our residents who provided feedback on our initial plans via the council's consultation portal and 'virtual' drop-in sessions, Athelstan Rec's playground now boasts a trampoline and the green climbing frame in Sir Francis Barker playground that was due to be retained has been replaced with a new wooden robinia climbing frame. The play area in RAF Chessington is centred around a new 'Chessington Control Tower' multiplay unit, reflecting the site's aviation heritage and a new footpath has been created connecting the playground to the main pathways to improve accessibility.
Councillor Stephanie Archer, Portfolio Holder for Environment & Sustainable Transport at Kingston Council said:
During the pandemic, going outside to enjoy open spaces for fresh air, to connect with nature, to play and for exercise has been extremely important to our residents and we are committed to continuing to invest in our green spaces.

It's been a tremendously tough year for everyone and we're thrilled to have completed three more playground makeovers in time for summer.

We hope the new play areas bring some joy to families across Chessington and Kingston Town, but please do ensure you enjoy them safely by continuing to follow the COVID-19 guidelines in place.
So far, through our Community Parks programme we have delivered improvement works in 11 green spaces - Athelstan Recreation Ground, Sir Francis Barker Recreation Ground, RAF Chessington playground, Fairfield Recreation Ground, King George's Recreation Ground, Victoria Recreation Ground, Beverley Park Playground, Churchfields Recreation Ground, King Edwards Recreation Ground , Canbury Gardens and Knollmead Park.
Details on the next stage of the programme will be confirmed next month please keep an eye on the Community Parks webpage for the latest information.