Kingston's new Mayor to champion mental health and wellbeing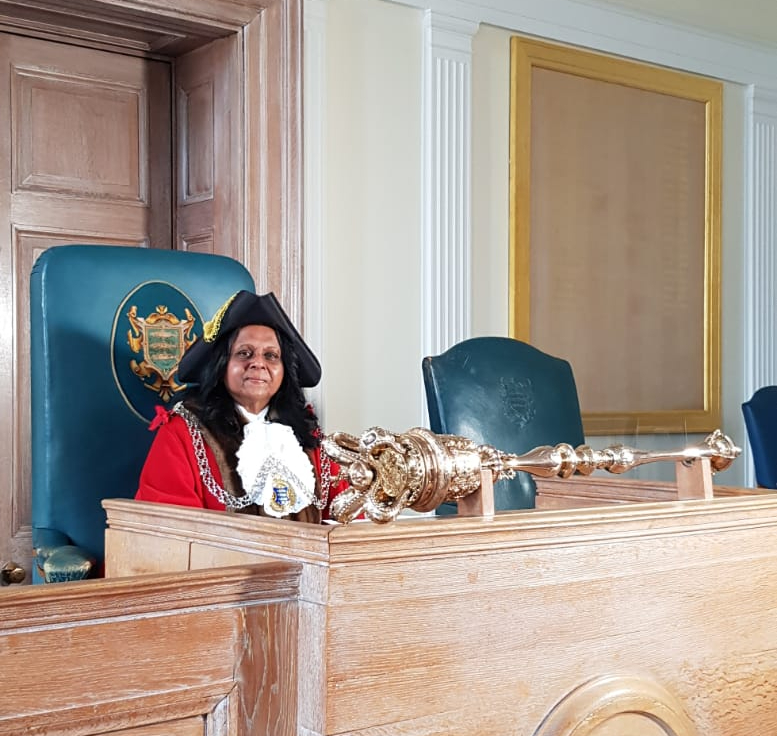 Councillor Sushila Abraham has been appointed as the 186th Mayor of the Royal Borough of Kingston at a socially distanced ceremony outside the town's Guildhall.
The new Mayor signed the Declaration of Acceptance of Office at the outdoor event on 18 May 2021. Alongside her, Councillor Malcolm Self was appointed as Deputy Mayor.
Highlights from the event can be watched on the council's YouTube channel.
Mayor Abraham will focus on mental health and wellbeing as her key themes for the year. As is customary, she has chosen two local charities to champion as her special causes during her time in office - Anstee Bridge and Milaap Multicultural Day Centre.
Mayor Abraham said the organisations were incredibly important to residents of the borough.
"Mental health and wellbeing are the themes for this mayoral year and I have chosen two organisations, Milaap and Anstee Bridge, as the Mayor's charities. Milaap is a Multicultural Day Care Center for elderly residents and Anstee Bridge supports young people with emotional needs. Both these organisations are well deserving and support my mayoral theme for the year.


"I will be Mayor for each and every citizen and I will be out and about as much as I can, in light of the pandemic. My mayoral year will be marked and remembered as the time when people were brought back together as one community, as we recover from the effects of the pandemic across this borough, and together we will appreciate, enjoy and embrace this place that we are privileged to call our home."
Mayor Abraham is a solicitor who has had her own practice on Ewell Road in Surbiton since 1999. She lives in Surbiton with her husband Dr Mathew Abraham, who is a barrister. They have one son Matthew, also a barrister, daughter in law Taleetha and granddaughter Amelia.
She was President of the Surrey Law Society and Chairman of the Solicitors Sole Practitioners Group. She is a Council Member of the Law Society of England and Wales representing Surrey solicitors. She is passionate about working with elderly and vulnerable residents.
She was elected as a Councillor in 2013 in a by-election for Berrylands Ward and is a Trustee of Kingston Carers Network, has served as Vice Chair and Chair of Surbiton Neighbourhood Committee, as well as serving as a school governor.
She also served as Deputy Mayor from 2020 to 2021 and enjoys cooking, gardening, golf and travelling.
Anstee Bridge
Anstee Bridge is part of Achieving for Children, a social enterprise created by Kingston and Richmond councils to provide their children's services. The Anstee Bridge project was set up in 2008 to provide alternative learning for young people aged 14-16 facing emotional challenges causing them to disengage in education.
Milaap Multicultural Day Care Centre
The Milaap Centre provides friendly social day care services to support elderly residents in Kingston and surrounding boroughs from diverse multicultural backgrounds.