Council tax budget 22/23
About the 2022-23 council budget
For more information you can read the full budget report.
All local authorities are required to set an annual budget that balances the money spent on services with income generated and funding received. On 1 March 2022, Budget Council approved a budget of £148.04m to be spent on vital services for residents.
Our job is to deliver services that make our borough a great place to live, work or study, as well as to provide value for money.
This has been increasingly challenging as the money we receive from the Government has been cut. In 2010, Kingston received £66m from central government, this was cut to £0 in 2018. After a couple of years of no support from central government, we will receive just £4,000 this year.
Whilst there has been some money to spend on specific services such as education and supporting residents and businesses through the pandemic, our central budget relies primarily on what we collect from council tax and business rates.
In addition, the impact of Covid-19 and an increasingly ageing population who we want and need to support means that finances have never been so squeezed.
We need to focus on how we spend the money we do have, to ensure we can continue to improve the lives of the people who rely on us most.
A council tax increase of 1.99% has been agreed to help the borough meet the financial pressures of looking after our most vulnerable adults and children, as well as the impact of the pandemic. Find out more about council tax on our council tax pages https://www.kingston.gov.uk/council-tax
What will we spend our money on?
This financial year (2022-23), we have set a budget of £148.04 million.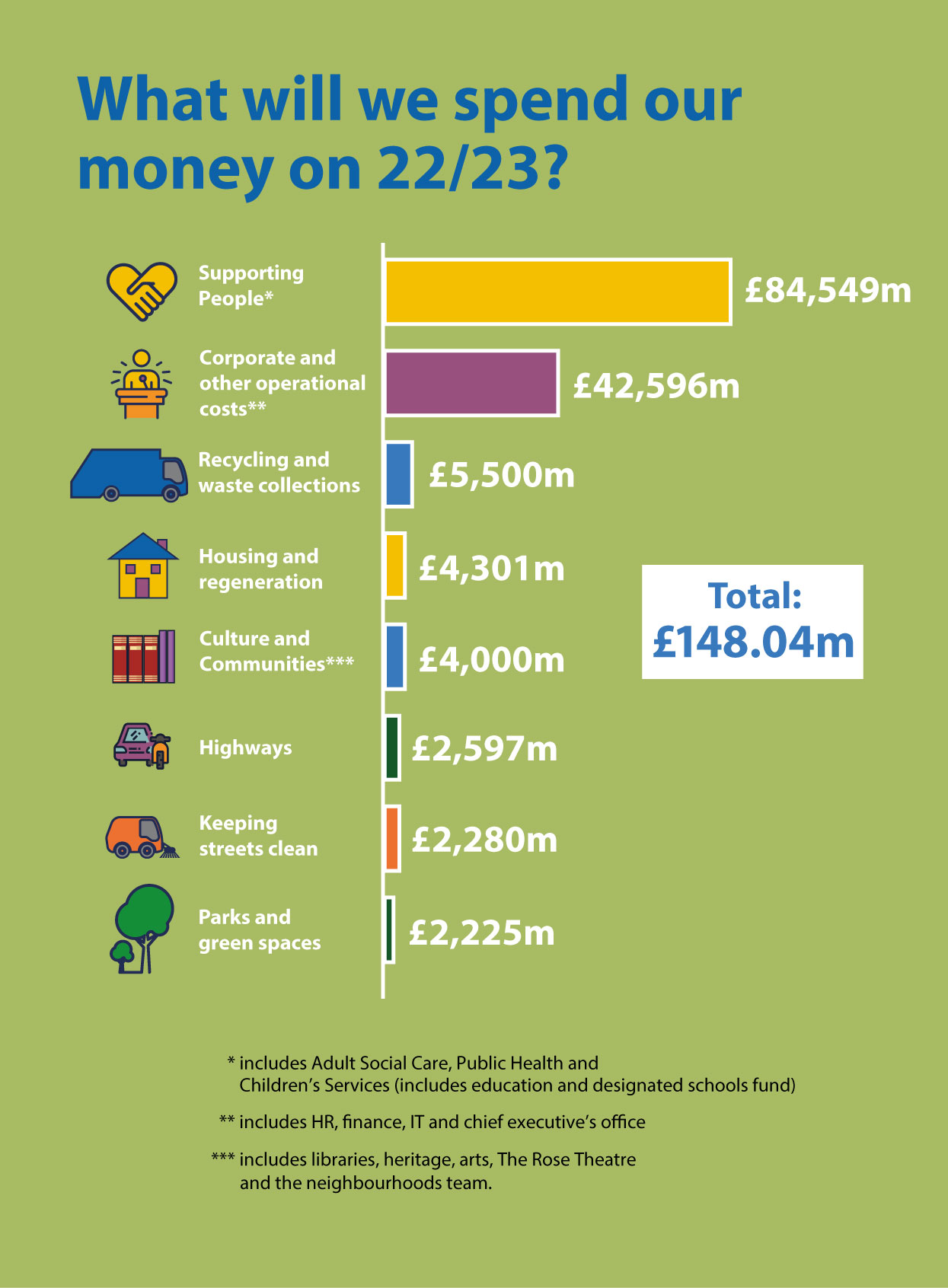 Although we need to make savings, we'll still be investing a further £11m in vital services and delivering on the key commitments we have promised.
We will focus on the services residents rely on, particularly supporting those who need us most, which includes providing a new dementia home (due to open in spring 2022) and a new special needs school (due to open in 2025), as well as supporting our vulnerable adults and families to find the right places to live.
We're committed to improving the environment and providing a greener future for everyone. Our new draft climate action plan aims to remove single-use plastic from our buildings, plant more trees and encourage more sustainable transport options across the borough including walking to school, additional cycle lanes and installing more electric vehicle charging points. We're also working to increase recycling rates and to provide more green and affordable housing.
The pandemic saw the whole borough pull together and work in partnership to support each other, including the setup of the successful Kingston Stronger Together volunteering hub in April 2020. Since then, the council, partners and the community have continued to work together building on the new relationships and behaviours developed during the COVID-19 response. We are committed to continuing this work and ensuring everyone can play an active role in shaping the future of our borough.
Where does our budget come from?