Support and advice for businesses
Backing Our Businesses (BOB)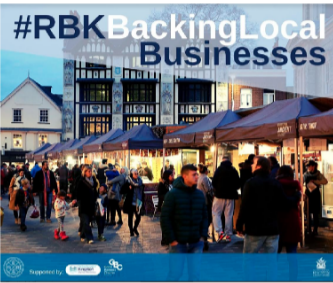 RBK Employment, Skills and Enterprise team invite you to Join our Backing Local Businesses spotlight campaign
We need you to help us to:
boost your business visibility
encourage residents to shop local
support your local business community
The Council is in a unique position to communicate, share and promote your business to residents, employers and businesses across the borough. We want to invite our local businesses to take advantage of this opportunity through our business spotlight campaign.
So, if you are a local business and are interested in increasing your business profile and visibility whilst supporting the growth of the local economy why not get in touch and get involved?
How to get involved
We have made the process simple to access
What's involved:
step 1: Register your interest
step 2: Agree a date to film your spotlight
step 3: Keep an eye out for your spotlight mention in our newsletter
step 4: Share amongst your network
step 5: Recommend another business
RBK Kingston Business Information form
Contact us
If you have any further enquiries about this campaign you can email us business@kingston.gov.uk and a member of the team will get back to you.