Learning disabilities
A learning disability affects the way a person learns new things in any area of life. It affects the way they understand information and how they communicate. This means they can have difficulty:
understanding new or complex information
learning new skills
coping independently
If you have some form of learning disability, you'll know that everyday activities like work, education and jobs around the house can be a challenge. You might experience prejudice from other people who don't understand about learning disabilities, or feel lonely because you don't have anyone to talk to about how you're feeling.
The Community Learning Disability Team
The Community Learning Disability Team are a team of Health and Social Care staff who support adults with learning disabilities and autism, their families, and carers. They may be able to support you if you are 18 and over, have a learning disability or autism and live in the Royal Borough of Kingston, or have a GP in Kingston.
Are you being hurt or upset?
Tell someone you trust. Do it straight away. You can phone the Care Management team on 020 8547 6558 or phone 999 if it's an emergency.
If you would like to learn more about how to keep safe when out and about, we run a group to learn about personal safety. Please contact The Community Learning Disability Team.
Safe Places
A Safe Place is a place for people with learning disabilities to go if they ever feel unsafe or need some help in the community.
The Safe Place logo is in shop windows in and around Kingston and you need a Safe Place card to sign up to be part of the Scheme.
If you are out in the community and you are:
bullied
picked on
hit
made to fee unsafe or scared
Go to a place where you see the Safe Place sign.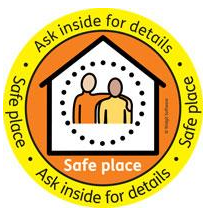 Places that display the Safe Place sign have staff who can support you to get help.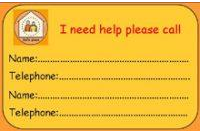 Make sure you carry your Safe Place card to help them to help you.
If you or anyone you know would beneift from joining the Safe Place Scheme, you can get your pack from:
Sessions House, 17 Ewell Road, Surbiton, KT6 6AF
To find out more you can call the Parliament Office on 020 8547 6558
Contact the Community Learning Disability Team
Address: