Council owned trees
Essential health and safety tree work - Blagdon Road Open Space
Background and methodology
Kingston council owns and manages an estimated 13,000 trees and has a duty of care to be a responsible manager and to maintain trees reasonably within the wide range of pressures and risks it faces.
All of the council's trees on streets and in parks are regularly inspected for safety reasons by qualified council staff using Visual Tree Assessment (VTA) techniques to undertake assessments. VTA is a standard approach to tree risk assessment consisting of the diagnosis of structural defects and the evaluation of their significance from visible signs and the application of arboricultural biomechanical knowledge.
Inspection and risk
Kingston council inspects all trees on streets and in parks on a three year cyclical schedule. The purpose of these inspections is to assess the health of each tree, record any defects and recommend works that can either extend the lifespan of the tree for as long as possible, or control its growth in respect to its surroundings.
In many cases there will be no works required at the time of inspection. However there are cases where trees are found to be dead, diseased or decayed and will require removal in order to protect the public, property and the health of surrounding trees.
Certain species of tree, such as Lombardy poplar, have an unpredictable and brittle nature and relatively short life span in urban environments and it is important to manage them carefully in well-used spaces.
All the trees in Blagdon Road Recreation Ground received a formal and detailed inspection. Sounding tests, used to detect decay and dysfunction, were undertaken and indicated that three Lombardy poplar trees (Populus nigra Italica) have internal decay affecting their structural integrity and require removal on the grounds of safety. In addition, two newly planted young trees were found to be dead. The remaining trees within the park were deemed to be in a good or reasonable condition at the time of inspection with no work required at this time.
Diseased trees can often appear to be perfectly healthy, but a detailed inspection by a qualified arboriculturalist can reveal problems that are not obvious to the untrained eye.
The Lombardy poplar trees in Blagdon Road Recreation Ground are situated in a high footfall area, adjacent to a children's playground. As a responsible tree manager the council cannot afford to take risks, particularly where this relates to trees which by their very nature are variable and unpredictable. Three of the Lombardy poplar trees pose a foreseeable risk after inspection and the council must take action to manage those risks.
Failure to undertake these works will leave the council liable for any accidents that may occur.
Recommended works
The full inspection report for Blagdon Road Rec can be viewed below. Giving due consideration to the condition of the trees upon inspection and to the likelihood and risk involved the report recommends:
Removal of 3 Lombardy poplar (Populus nigra Italica) due to decay. Ref OHQ9, OALK, OALL.

Removal of 2 young dead trees (Quercus cerris). Ref OHQB, OGME.
The date for the works is to be confirmed.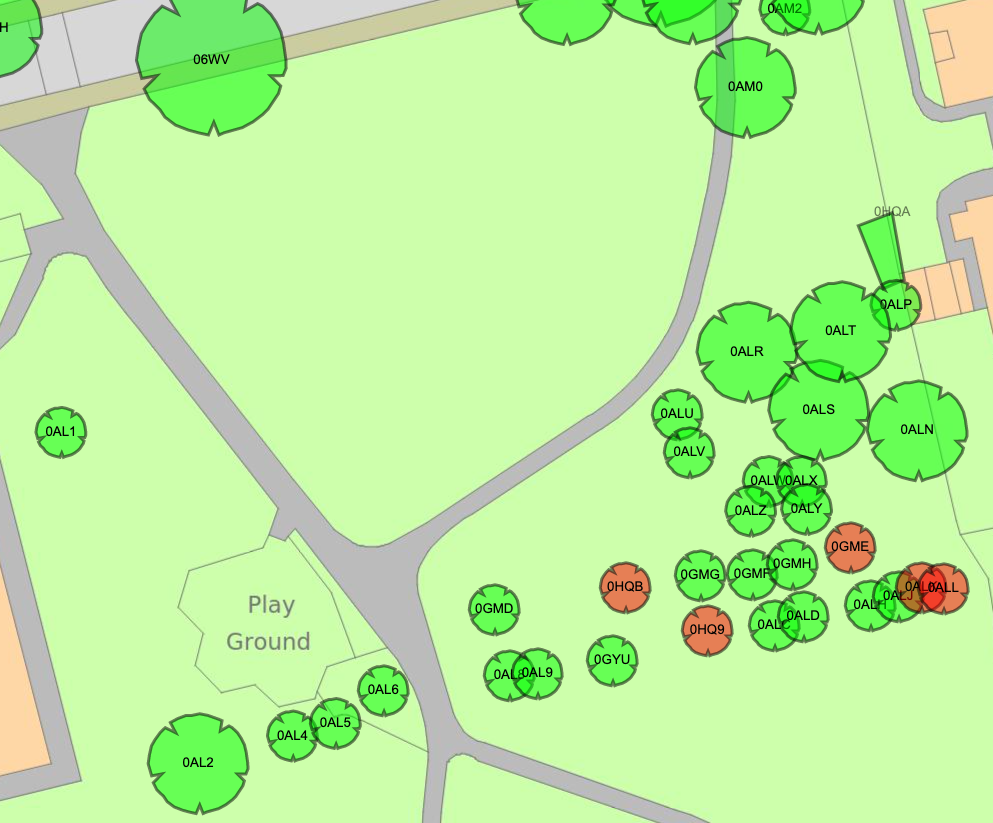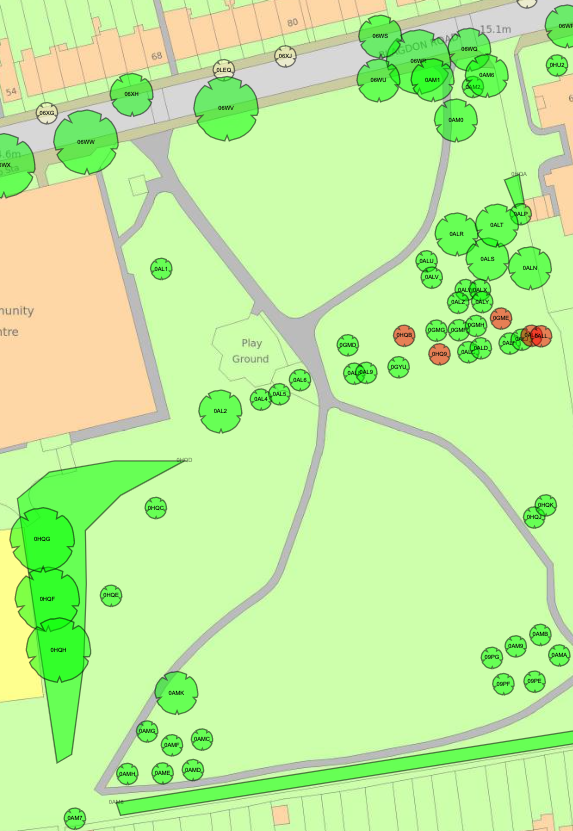 | | | | | |
| --- | --- | --- | --- | --- |
| Ref | Species | Age/size | Condition | Works |
| 09PE | Field Maple (Acer campestre) | 21 to 40cm | Good | |
| 09PF | Field Maple (Acer campestre) | 21 to 40cm | Good | |
| 09PG | Field Maple (Acer campestre) | 21 to 40cm | Good | |
| 0AL1 | Himalayan Birch (Betula utilis Jaquemontii) | 21 to 40cm | Good | |
| 0AL2 | Goat Willow (Salix caprea) | 21 to 40cm | Reasonable | |
| 0AL4 | Turkey Oak (Quercus cerris) | Upto 10cm | Poor | Monitor new planting |
| 0AL5 | Turkey Oak (Quercus cerris) | Upto 10cm | Reasonable | |
| 0AL6 | Turkey Oak (Quercus cerris) | Upto 10cm | Poor | Monitor new planting |
| 0AL8 | Lombardy Poplar (Populus nigra Italica) | 70cm+ | Reasonable | |
| 0AL9 | Lombardy Poplar (Populus nigra Italica) | 70cm+ | Reasonable | |
| 0ALC | Lombardy Poplar (Populus nigra Italica) | 70cm+ | Reasonable | |
| 0ALD | Lombardy Poplar (Populus nigra Italica) | 70cm+ | Reasonable | |
| 0ALH | Lombardy Poplar (Populus nigra Italica) | 41 to 70cm | Reasonable | |
| 0ALJ | Lombardy Poplar (Populus nigra Italica) | 41 to 70cm | Reasonable | |
| 0ALK | Lombardy Poplar (Populus nigra Italica) | 41 to 70cm | Poor | Fell |
| 0ALL | Lombardy Poplar (Populus nigra Italica) | 41 to 70cm | Poor | Fell |
| 0ALN | Sycamore (Acer psuedoplatanus) | 21 to 40cm | Good | |
| 0ALP | Ash (Fraxinus excelsior) | 21 to 40cm | Good | |
| 0ALR | Field Maple (Acer campestre) | 21 to 40cm | Good | |
| 0ALS | Field Maple (Acer campestre) | 21 to 40cm | Good | |
| 0ALT | Field Maple (Acer campestre) | 21 to 40cm | Good | |
| 0ALU | Himalayan Birch (Betula utilis Jaquemontii) | 11 to 20cm | Good | |
| 0ALV | Himalayan Birch (Betula utilis Jaquemontii) | 11 to 20cm | Good | |
| 0ALW | Silver Birch (Betula pendula) | Upto 10cm | Good | |
| 0ALX | Silver Birch (Betula pendula) | 11 to 20cm | Good | |
| 0ALY | Silver Birch (Betula pendula) | 11 to 20cm | Good | |
| 0ALZ | Silver Birch (Betula pendula) | Upto 10cm | Good | |
| 0AM0 | Silver Birch (Betula pendula) | 21 to 40cm | Reasonable | |
| 0AM1 | Wild Cherry (Prunus avium) | 21 to 40cm | Reasonable | |
| 0AM2 | Ash (Fraxinus excelsior) | 11 to 20cm | Reasonable | |
| 0AM6 | Sycamore (Acer psuedoplatanus) | 21 to 40cm | Good | |
| 0AM7 | Lawson Cypress (Chamaecyparis lawsoniana) | 41 to 70cm | Reasonable | |
| 0AM8 | Lawson Cypress (Chamaecyparis lawsoniana) | 21 to 40cm | Reasonable | |
| 0AM9 | Field Maple (Acer campestre) | 21 to 40cm | Good | |
| 0AMA | Turkish Hazel (Corylus colurna) | 11 to 20cm | Good | |
| 0AMB | Turkish Hazel (Corylus colurna) | 21 to 40cm | Good | |
| 0AMC | Field Maple (Acer campestre) | 21 to 40cm | Good | |
| 0AMD | Field Maple (Acer campestre) | 21 to 40cm | Good | |
| 0AME | Field Maple (Acer campestre) | 11 to 20cm | Good | |
| 0AMF | Norway Maple (Acer platanoides) | 21 to 40cm | Good | |
| 0AMG | Snake Bark Maple (Acer davidii) | 21 to 40cm | Reasonable | |
| 0AMH | Red Maple (Acer rubrum) | 21 to 40cm | Reasonable | |
| 0AMK | Silver Maple (Acer saccharinum) | 21 to 40cm | Reasonable | |
| 0GMD | Turkey Oak (Quercus cerris) | Upto 10cm | Reasonable | |
| 0GME | Turkey Oak (Quercus cerris) | Upto 10cm | Dead | Remove |
| 0GMF | Turkey Oak (Quercus cerris) | Upto 10cm | Reasonable | |
| 0GMG | Turkey Oak (Quercus cerris) | Upto 10cm | Reasonable | |
| 0GMH | Turkey Oak (Quercus cerris) | Upto 10cm | Reasonable | |
| 0GYU | Lombardy Poplar (Populus nigra Italica) | 70cm+ | Reasonable | |
| 0HQ9 | Lombardy Poplar (Populus nigra Italica) | 41 to 70cm | Poor | Fell |
| 0HQA | Sycamore (Acer psuedoplatanus) | 21 to 40cm | Reasonable | |
| 0HQA | Goat Willow (Salix caprea) | 21 to 40cm | Reasonable | |
| 0HQB | Turkey Oak (Quercus cerris) | Upto 10cm | Dead | Remove |
| 0HQC | English Oak (Quercus robur) | 11 to 20cm | Reasonable | |
| 0HQD | Common Hawthorn (Crataegus monogyna) | 21 to 40cm | Reasonable | |
| 0HQD | Ash (Fraxinus excelsior) | 21 to 40cm | Reasonable | |
| 0HQD | Common Elder (Sambucus nigra) | 21 to 40cm | Reasonable | |
| 0HQE | English Oak (Quercus robur) | 21 to 40cm | Reasonable | |
| 0HQF | English Oak (Quercus robur) | 41 to 70cm | Reasonable | |
| 0HQG | English Oak (Quercus robur) | 41 to 70cm | Reasonable | |
| 0HQH | English Oak (Quercus robur) | 41 to 70cm | Reasonable | |
| 0HQJ | Sycamore (Acer psuedoplatanus) | 11 to 20cm | Good | |
| 0HQK | Sycamore (Acer psuedoplatanus) | 11 to 20cm | Good | |