Kingston's heroes celebrated at Community Awards Ceremony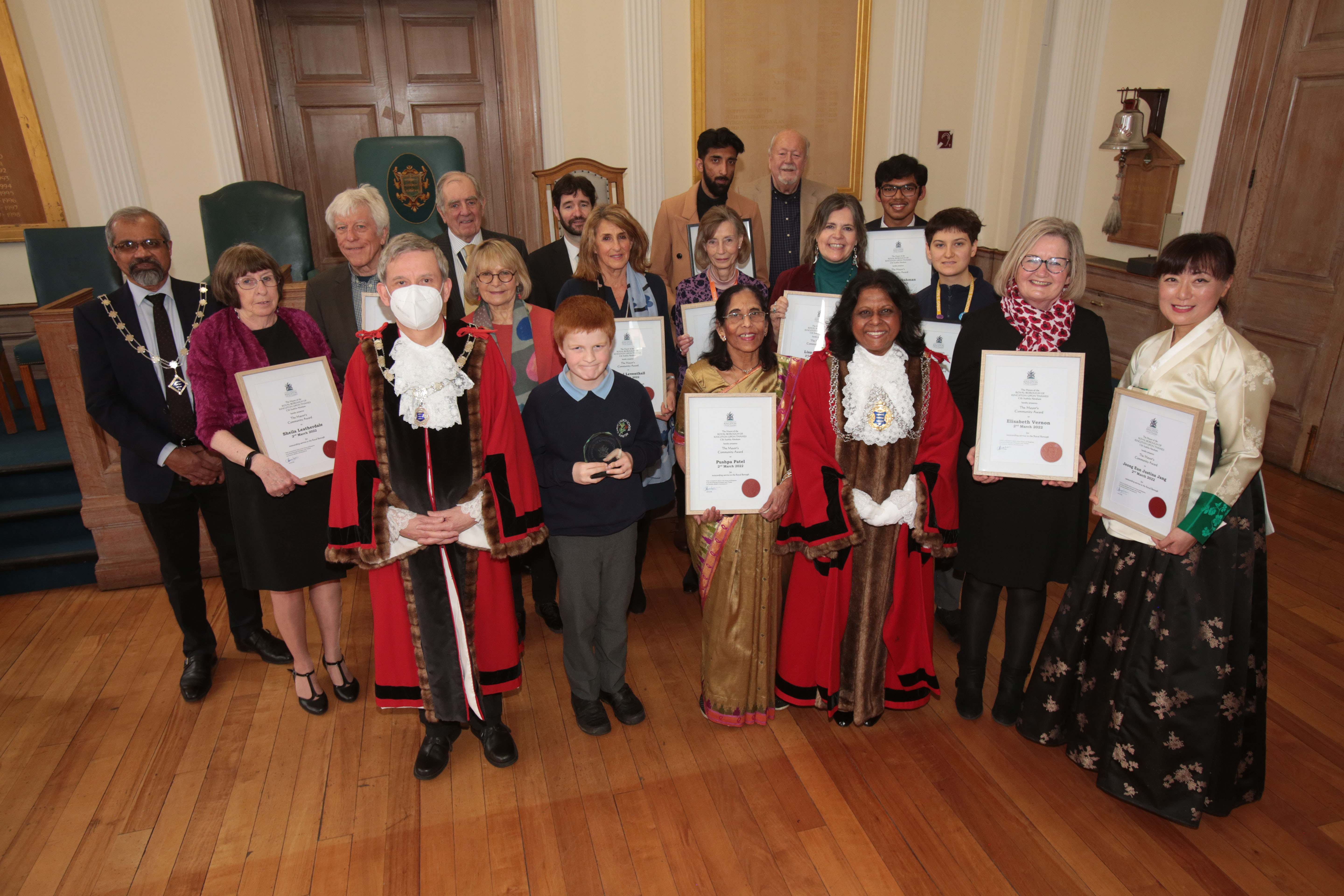 The Mayor's Community Awards Ceremony gave recognition to exceptional residents who have given up their time to help others over the last year.
This year, the Mayor also presented two special 'Young Person' Community Awards, for those under the age of 21 who are carrying out inspiring work in their local area.
A special Sports Award was also given to a young resident, aged 9, who has walked each and every road in Kingston and he still continues.
Councillor Sushila Abraham, the Mayor of the Royal Borough of Kingston upon Thames, highlighted the incredible community spirit in the borough. She said:
It has been a great pleasure for me as Mayor to be able to present the Awards today to a number of inspiring people in Kingston who give up their time to support those around them. They have done so throughout the challenges of the last 18 months and still continue. It is their resilience and fortitude that has kept this borough alive.

These awards celebrate just some of the incredible residents in our community, and their amazing achievements to help the most vulnerable and also to make this borough one we all can call home. It has been an honour to meet and congratulate our community heroes.
The winners of the Mayor's Community Awards 2022 are:
Gloria Martin and Peter Taunton
Gloria and Peter, husband and wife who were nominated jointly, set up and lead the Friends of Latchmere Recreation Ground - a group with now over 400 members. Their vision and tenacity has seen the opening of a new cafe, funding for an eco-friendly wildlife pond, and the set-up of a volunteer group to maintain it for future generations. Gloria and Peter have inspired our local Tudor Community to take ownership of Latchmere Rec and, with a well-established Friends group, led by a very able and hard-working committee, they have built confidence in the future of the Rec.
Billy Lach
Billy has been a much valued part of the Staywell Volunteer Team since 2015, and over the pandemic she has been willing to roll up her sleeves in whatever way she possibly can: delivering prescriptions, collecting and delivering shopping, and making phone calls when visits were not possible.
John Parrish
John is a leading Member of the Canbury and Riverside Association (CARA), and has been involved since it was established 20 years ago. He is a great communicator, keen to learn and exchange with other groups such as the Friends of Latchmere Rec. An active member of CARA, he has held numerous roles, most recently taking charge of the group's newsletter which goes out to some 800 residents.
Lis Vernon
Lis has volunteered for Voices of Hope for several years, but since COVID has been a dedicated volunteer for numerous projects, such as supporting the Food Hub. She is tireless in her enthusiasm, displays kindness and grace to everyone she meets, and provides much needed hope to those the charity reaches. There is rarely a time she isn't smiling!
Lisa Trend
Lisa was the pioneering inspiration behind opening a charity shop in New Malden to support Oxygen – the Kingston Borough Youth Organisation. Despite having her own teaching career and a busy family life, Lisa trains, supports and encourages the Shop's volunteer staff. Her brilliant artistic talent is very much on display in the shop window arrangements.
Pushpa Patel
Pushpaben who has lived in three continents (Asia, Africa and Europe) has dedicated much of her life to meeting the needs of others. She is a kind, gentle and respected member and trustee of the Milaap Multicultural Day Centre with responsibility for Health and Safety. She also regularly supports vulnerable neighbours to use aids and gadgets they are given, shopping and with household chores. As well as supporting the Milaap family, Pushpaben supports Saheli, an organisation which supports ladies who are often isolated and lonely.
Rachel Leventhall
Rachel has been active in both the Jewish Community and the wider Kingston Community for the past forty years. Although still working she has devoted much of her spare time to helping others both in Kingston and Elmbridge. Especially since the start of the pandemic, as chair of the Jewish Care Committee, she has led, by example, a team of volunteers who have shopped, visited, and cooked for many people in need. In addition, she has led the community in collecting and delivering food and money for the local food banks. Rachel is an inspiration in all she undertakes and is a wonderful example of how a young person can work and still find time to help others.
Justina Jang
Since 2016, Justina has worked tirelessly in organising various Korean cultural events to promote understanding and friendship between the Korean and other communities to be found within Kingston, including the Kingston Korean Festival and Kimjang. Allied to her close association with various Korean community organisations, such as the South and North Korean Residents' Associations and the Korean Saturday schools, she is truly a community champion who deserves this award for her hard work and her selfless, caring and devoted contribution to the community of Kingston.
Sheila Leatherdale
Sheila has been a valued and hardworking member of Kingston Carers' Network for over 13 years and has been 100% committed to supporting the Kingston Young Carers project, that supports children who care for a member of their family. She has not only been supportive to our Young Carers but also to the staff within the project. Sheila has a kind and caring nature towards the children and can support them through helping them to achieve their very best especially with our cooking activities. Sheila has also used her time to deliver Brite boxes to our Young Carers, Christmas presents and activity packs during lock down.
Yana Pocklington
In 2016/17 Yana entered into a partnership with the Lower Mole Countryside Trust. The plan was to reduce the fly tipping of garden waste and to enhance the environment for both wildlife and residents, along a walk running along the upper ridge of the Chessington golf course. She has more than achieved these aims. Since that time Yana has worked diligently in this area and has transformed it into a well used and well loved walk known as the Huntingate walk, now linked with the Selby Passage.
Sarah Kausmally
Sarah is a valued local community hero for over a decade, devoted to protecting our swans. Sarah has rescued swans who crash-landed into buildings; she has taken fish hooks out of swans' necks; she has rescued cygnets and treated swans who needed emergency care. Every local along the river bank knows that when they see an injured bird, Sarah is the point of contact. She has been recognised by the Swan Sanctuary as the official warden for Kingston, and she extends her devotion to the community, such as by organising litter picks.
The winners of the Mayor's Young Person's Community Award are:
Hammad Malik
Hammad has been a Member of Youth Parliament for Kingston for 3 years. During the pandemic he volunteered up to 3 hours a week leading on many initiatives to ensure young people's voices are heard. He has led on developing the Kingston Youth Ambassadors, the Cooks Crescent Youth Survey, the Kingston COP 26 Youth Conferences as well as chairing the Kingston State of the Borough Panel. He also coordinated the Make Your Mark consultation which resulted in 3,500 young people voting.
Adya Manoj
Adya has been a member of the youth council for 3 years and has been involved in developing and leading on many projects, such as the Kingston and Richmond Young Peoples Sexual Harrassment survey, which involved reaching out to over 800 young people and lead to presentations to headteachers. She has been involved in a number of youth scrutiny projects and was actively involved in developing and delivering the Kingston COP26 Youth Conference. She developed the Kingston Youth Ambassadors program which facilitated focus groups to targeted youth groups across Kingston on the Kingston Youth Service redesign proposals.
Isabella Topley
Isabella is a young person who has been involved in the Youth Council for 5 years. During that time she has given up her time to attend weekly meetings and develop the Youth Out Loud project which makes health and care services better for young people. She has been involved in developing the Kingston and Richmond Young Peoples Sexual Harrassment survey, reaching out to over 800 young people, which lead to presentation to headteachers. She has also been part of many staff interview panels ensuring the voice of young people informs staff selection within AFC. Isabella has been involved in a number of youth scrutiny projects and was actively involved in developing and delivering the Kingston COP26 Youth Conference to schools. She has been instrumental in leading in the development of 5 podcasts as part of the youth voice podcast series that aims to highlight young people's issues.
Praneeth Lakshman
Praneeth has been volunteering up to 3 hours a week with the Youth Council for approximately 3 years. As a fervent campaigner for ensuring young people get their voices heard, he has been involved in leading on developing many projects that tackle climate change, such as developing and delivering the COP26 Climate Change Youth Conference, which subsequently lead to the development of the Kingston Climate Change Youth Fund project, which will fund youth led projects in 2022 to tackle climate change. He also has been part of many staff interview panels ensuring the voice of young people informs staff selection within AFC.
Rubishaa Chandramohan
Rubishaa came to the vaccine hub as an inexperienced yet driven volunteer. Soon, she was helping with wayfaring, parking, reception and booth admin, was always willing to help set up and clear away the clinic, and has now flowered as a confident and brilliant volunteer. When our vaccine hub came to an end, she went on to support a local pharmacy in Tolworth, a shining example of the initiative and passion Rubishaa has to help others.
The Mayor of Kingston also provided a special Young Person's Sports Award for Matty Nixon
This special presentation was given to Matty Nixon due to his sporting efforts and in particular "his walking achievements". Over the last few years the Borough's Sports Awards have not been able to take place. The Mayor heard about how an eight year old, living in Berrylands, had walked the length of every one of the borough of Kingston's streets, during the first set of lockdowns and then the remaining part of that year finishing the whole borough on Christmas Eve. He later continued his walking along more streets in the neighbouring areas of Long Ditton, Hinchley Wood and Thames Ditton in the later lockdowns. The Mayor decided that Matty should have something from the borough to mark this amazing achievement.