Leader of Kingston Council thanks residents and calls on Government to reopen garden centres
Leader of the council, Councillor Caroline Kerr, has released a message to the residents of Kingston thanking them for their response to COVID-19.
Councillor Caroline Kerr said: "We can all be proud of Kingston's response to the Coronavirus over the last few weeks. By following the rules around social distancing and only making essential journeys, the number of coronavirus cases has been kept low, which means Kingston Hospital has had enough beds to treat all those affected; our parks have stayed open, and we have been able to ensure those most affected get the support they need."
"To make sure our hard work is not wasted, it's essential we continue to follow these guidelines so we can continue to protect our essential services and each other. Thank you."
Read the full statement or watch the video.
Kingston Council calls on Government to reopen garden centres to support economy and mental health
The Leader of the council has written to the Minister for London and Secretary of State for Small Business, Consumers and Labour Markets Paul Scully MP urging him to prioritise the reopening garden of centres.
She said: "When considering the reopening of businesses I ask you to look favourably at local garden centres. I know you will be thinking about those parts of the economy that support the mental and physical health and well being of residents, and the sectors that can play an active part in helping with this.
"Our garden centres are greatly valued and bring enjoyment to residents at a time when they need it most. On behalf of Kingston residents I urge you to reopen them as soon as possible to enable the full benefits to be shared by both residents and the local economy."
Kingston Council's COVID-19 (Coronavirus) response in numbers
The council has been working tirelessly to ensure we are providing effective support to those in need, including residents, local businesses and key workers. Here are just a few of the latest stats: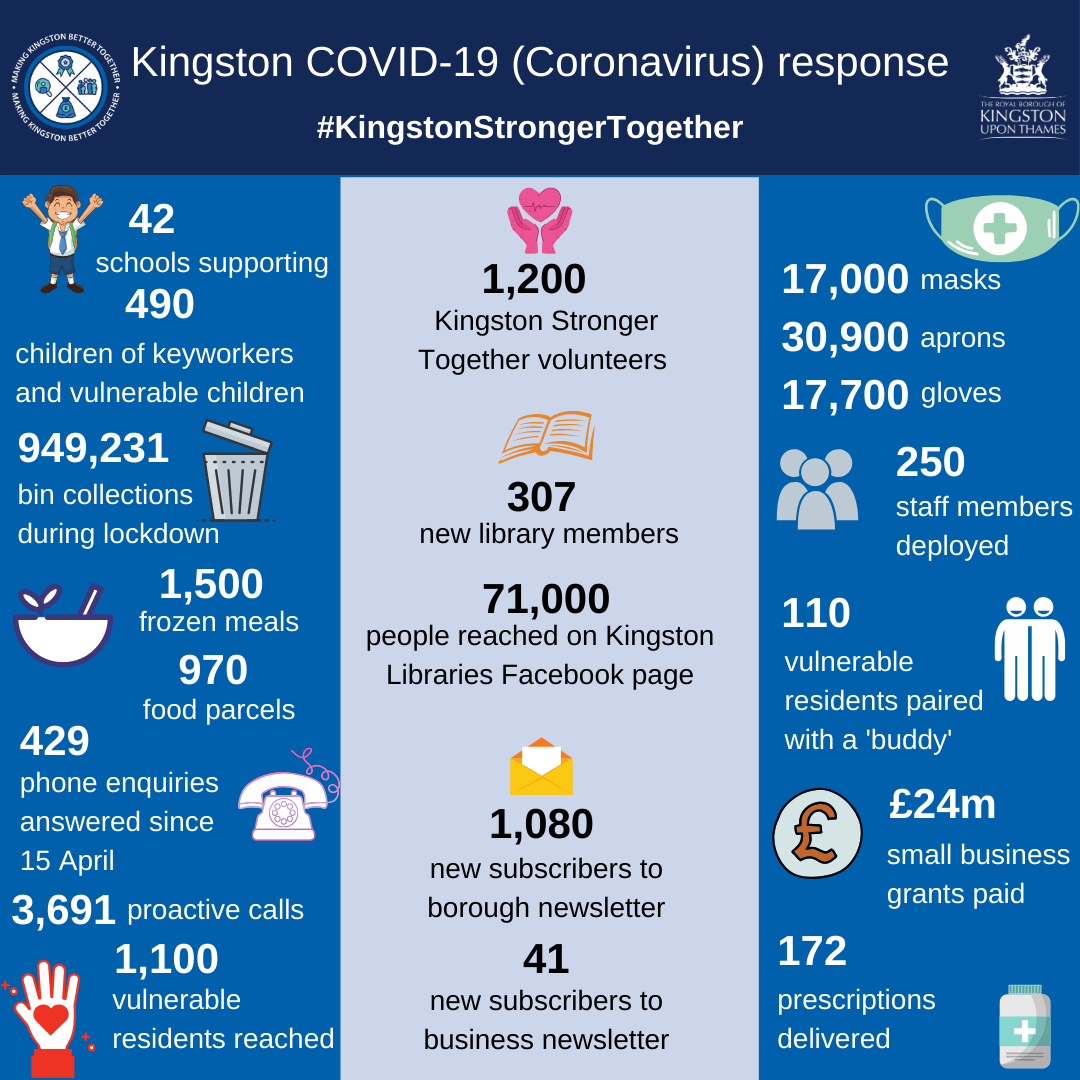 COVID-19 (Coronavirus) local business update
In Kingston 79% of eligible businesses have now received their grants, valuing over £24m. If you have not submitted your claim, please do so as soon as possible via this simple online form.
For business rates relief, you do not have to take action. Revised bills have now been issued and include entitlement to the expanded retail, hospitality & leisure discount.
VE Day cyber celebration
The Heritage Service is hosting #Dance4VEDay on Friday 8 May - marking 75 years since VE Day (Victory in Europe Day) - by trying to create the largest remote dancing flashmob in honour of the occasion.
Despite physical celebrations across the nation being put on hold, we are marking the anniversary by encouraging people to join us in a special virtual dance along to celebrate the day and show support for local causes.
We'll be asking people to log on from their homes and join in the occasion, which you'll be able to view from 4pm on 8 May on the Heritage Service's Facebook, Twitter and Instagram pages.
Starting tomorrow (30 May), a series of dance workshops are also taking place based around the routine, which can also be found on the Heritage Service's social media channels.
More details of #Dance4VEDay and the above can be found at www.kingston.gov.uk/Dance4VEDay.