Collections - How it works
Collections from your house
If you live in a house or in a house converted into flats you should have the following containers:
Blue lid bin for paper and card recycling
Green bin or boxes for dry mixed recycling
Brown indoor kitchen caddy and brown outdoor bin for food waste recycling
Black bin for non-recyclable rubbish
The bins are free, you can order as many recycling bins as you need via the "request a waste container" page
You can also subscribe to the garden waste service, to purchase bins or biodegradable sacks to dispose of your garden waste.
How it works?
Your bins should be placed as close to the front boundary of your property as possible by 6.30am on your correct collection day. This is to ensure safe and easy retrieval for the collection crew.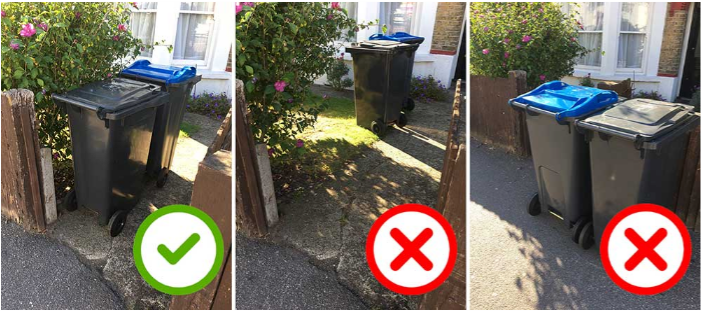 If your bins are not presented at the property boundary, or if you put the wrong items in any bin or box, the crew will refuse collection until the issue has been addressed for your next collection. The crew may leave tags on your bins to provide information as to why your bin might have been missed.
If your bin has been missed for these reasons, or you put your bins out on the wrong day or too late, you'll need to:
If we miss one of your bins, and your bin has not been tagged, please let us know by reporting a missed collection within two working days of collection.
If you have too much recycling, please place this next to your bin or box in an open bag and it will be collected. If you have too much rubbish, please check that you are recycling all that you can. Crews will not collect additional rubbish - you will need to take this to the Household Reuse and Recycling centre.
Help with collections
If you are physically struggling to use or put your recycling and rubbish containers on the property boundary for collection, and there is no one else in the household who can do this for you, we can provide an assisted collection.
Please contact us if you feel you qualify for the assisted collection service.
Houses not suitable for wheelie bins
Some houses are not suitable or do not have the space for wheelie bins. Your property might not be suitable for wheelie bins if:
there is a steep slope between your property and the kerb; or,
there are more than three steps between your property and the kerb; or,
your property has no front garden
Where this is the case, please contact us and we will assess your property. If the Council agrees that your property is not suitable for wheelie bins, you may be eligible for our rubbish and recycling sacks collection service.
The sacks collection service comprises of three types of sacks:
Clear sack for paper and card recycling
Blue sack for dry mixed recycling
Red sack for non-recyclable rubbish
Environment and waste
Contact us about environment and waste issues.
Address: