Learning disabilities
To support our residents who have a learning disability, we have a full range of support resources that can help them maintain independent, safe and active lives. The variety of local groups and national organisations with whom we work are able to provide the right type of help and advice, that's designed to ensure that an individual's needs can be met, and their daily lives enhanced.
The Community Learning Disability Team
Health and Social Care staff who support adults with learning disabilities, their families, and carers. They may be able to support you if you are 18 and over, have a learning disability and live in the Royal Borough of Kingston, or have a GP in Kingston. They can be reached at: Sessions House, 17 Ewell Road, Surbiton, KT6 6AF
Email: CLDT.duty@kingston.gov.uk Telephone: 020 8547 6558
Involve
Is a team of people with a learning disability who work for Kingston Council. We speak up for people with learning disabilities living in the Royal Borough of Kingston. Members of the team feedback the things that people have told us are important to them, for example in meetings at the Council or with Healthwatch, so things can be improved for people with a learning disability.
We review documents - e.g. posters, leaflets - and make them easy read. These easy read versions are produced and made available to residents by email and shared on the Kingston Council website.
The Involve team organises friends chats so people can get in contact with others who have learning disabilities. These happen every 6 weeks where you can chat about different subjects e.g. staying safe online. If you would like to contact us you can email: reception.sessionshouse@kingston.gov.uk
Useful sources of support to help you live independently:
Health
Mental wellbeing
Kingston MIND - they make sure that everyone with a mental health issue gets the help they need.
The Kingston Wellbeing Service helps people in Kingston aged 18 years and over with drug and alcohol problems as well as 'talking therapies' for those who are worried and depressed.
Easy read information
Friendship & relationships
Things to do - Meet old friends, make new ones:
Get involved - Have a say - Join in
Help with speaking up
Cambridge House - if you have problems with benefit claims, housing and support issues
Powher - if you are not happy with the NHS
Kingston Advocacy Group - helps vulnerable people have a say in decisions that affect them and how they live their lives.
Education
Volunteering
Volunteering Kingston - the service for Volunteers and Active Citizens within the Royal Borough of Kingston-upon-Thames.
Eco-op - a charity project who promote physical and mental well-being through learning and activities. Offer pathways into college and other local community activities for vulnerable adults.
Help to find a job
Working Well Trust - Working Well Trust can help you find a job. They will also help you with your CV, work experience or volunteering.
Job centre - information on finding a job if you have a disability - how to contact the Job centre. Work Coaches help people with a disability look for work.
Getting ready for work for young people - for young people up to 25 years old.
Way to work - offers apprenticeship vacancies and full-time jobs for young people aged 16-24 with local employers.
Money
Housing
Transport
Accessible places
Safeguarding
Disability awareness card - issued to young people with disabilities or parents and carers of children and young people with disabilities.
Reporting a hate crime - Easy read report form.
Safeguarding Concern Form - fill in this Form if you do not feel safe. You may need someone to help you do this.
Staying safe on social media and online
Are you being hurt or upset?
Tell someone you trust. Do it straight away. You can phone the Care Management team on 020 8547 6558 or phone 999 if it's an emergency.
If you would like to learn more about how to keep safe when out and about, we run a group to learn about personal safety. Please contact The Community Learning Disability Team.
Safe Places
A Safe Place is a place to go - such as a shop or a venue - where there are people who will help people with learning disabilities if they ever feel unsafe or need some help in the community. The Safe Place logo can be seen in shop windows in and around Kingston and you need a Safe Place card to sign up to be part of the Scheme. If you are out in the community and you are:
bullied
picked on
hit
made to feel unsafe or scared
Go to a place where you see the Safe Place sign.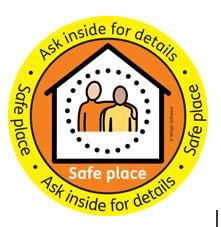 Places that display the Safe Place sign have staff who can support you to get help. Make sure you carry your Safe Place card to help them to help you.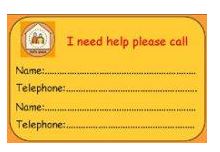 Further Information
Contact the Community Learning Disability Team
Address: